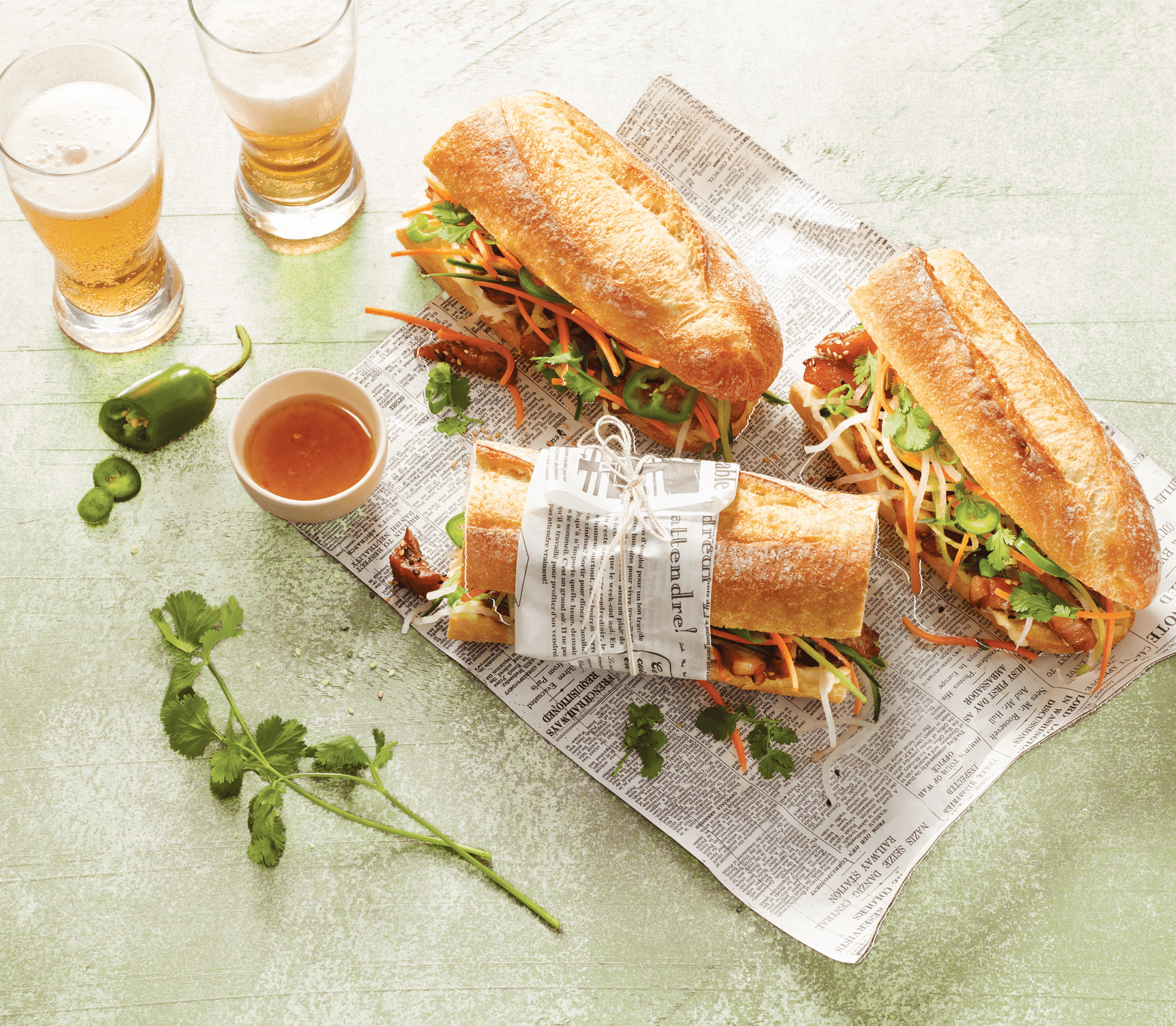 BBQ Pork Banh Mi Vietnamese Sandwich
Portions

4

Preparation

95 minutes

Cook

25 minutes
Recommended consumption time
Breakfast
Lunch
Brunch
Snacks
Appetizer
Ingredients used
Sliced Sourdough Baguettine Bread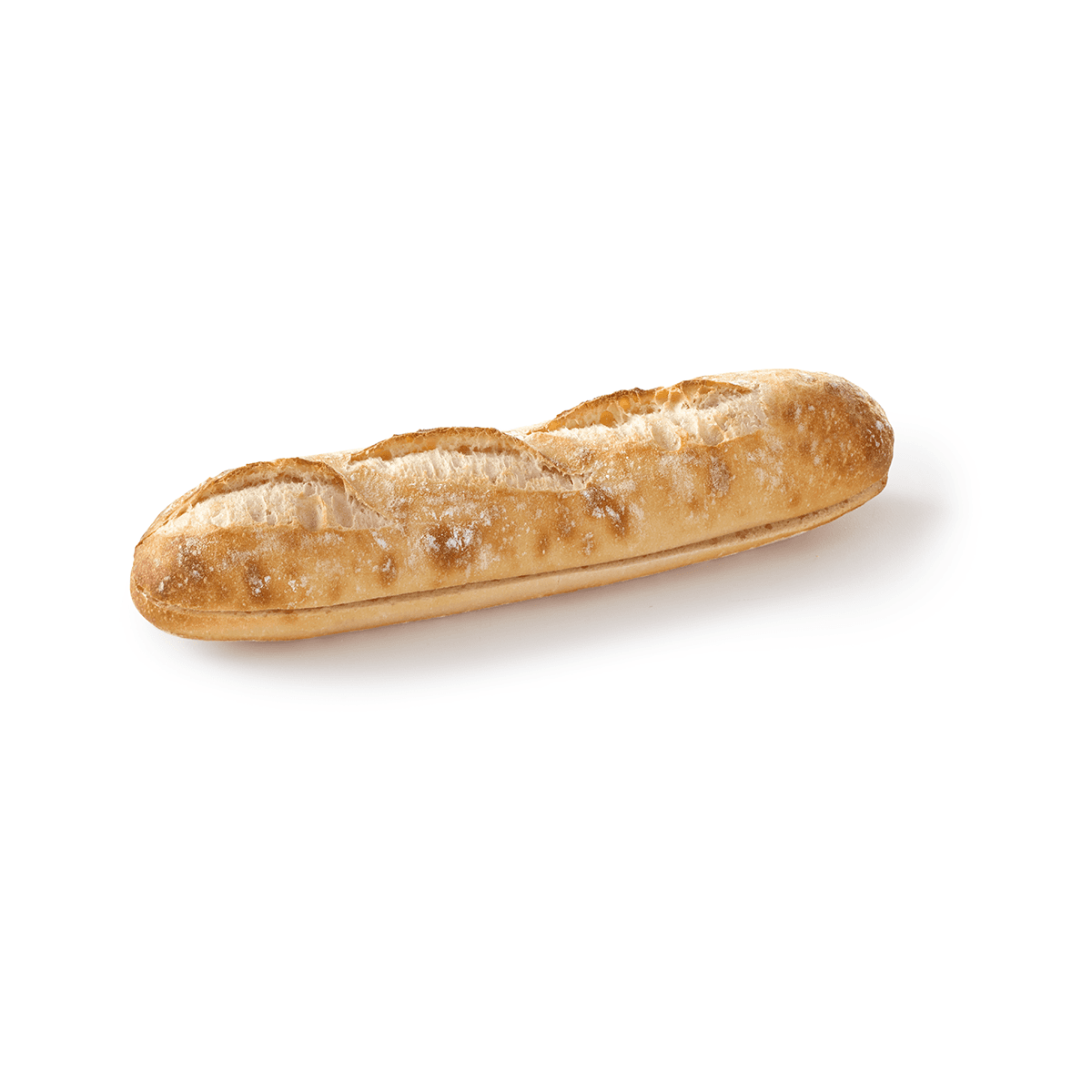 Sliced Sourdough Baguettine Bread
Quantity: 4
1/4 cup soy sauce
1/4 cup gochujang (or red chili paste)
1 Tbsp gochugaru (Korean Red Chili Pepper Powder)
1/4 cup mirin or vermouth
3 Tbsp corn syrup
1 Tbsp. granulated sugar
1/4 cup fresh ginger peeled and grated
3 green onions, sliced thinly
2 Tbsp chopped fresh garlic
2 Tbsp sesame oil
1 Tbsp sesame seeds, toasted
1 1/2 tsp ground black pepper
2 pounds fresh pork belly, skin removed
Salad Ingredients
2 cups daikon, peeled and julienned
2 cups English cucumber, julienned
2 cups carrots, peeled, julienned
1 jalapeno pepper, thinly sliced
1 tsp. granulated sugar
1 tsp. salt
2 Tbsp unseasoned rice vinegar
2 cups fresh cilantro leaves
1/3 cup mayonnaise
Preparation
STEP 1

Place pork belly in the freezer for 30 minutes to firm up. Slice into 1/8 inch thin, 3 – 4 inches long slices.

STEP 2

In a bowl, combine soy sauce, gochujang, gochugaru, wine, corn syrup, sugar, ginger, garlic, green onions, sesame oil, sesame seeds and black pepper. Add pork belly slices and rub marinade into meat. Cover and refrigerate for 1 hr or overnight.

STEP 3

Prepare the salad mix: place all salad ingredients but the cilantro leaves in a bowl and toss to combine. Set aside.

STEP 4

Bake sourdough baguettines in preheated 410 F oven for 6 minutes. Set aside to cool.

STEP 5

Increase oven temperature to 450 F. Place a piece of foil on a rimmed baking tray. Rub a thin layer of oil on the foil. Arrange pork slices on the tray. Bake for 15-20 minutes until the pork belly is slightly caramelized. Alternately, you can cook over an outside grill for 6-8 minutes per side.

STEP 6

Evenly spread the mayonnaise across the breads. Arrange the pork slices on the breads. Top with salad mixture and final the cilantro. Serve.
Chef's tip
• Choose lean pork tenderloin or chicken for a lower fat option.
• Add fresh mint and basil leaves along with the cilantro.
• Sprinkle with a little fish sauce for an umami boost.
• Replace the meat with firm tofu for a vegetarian option.