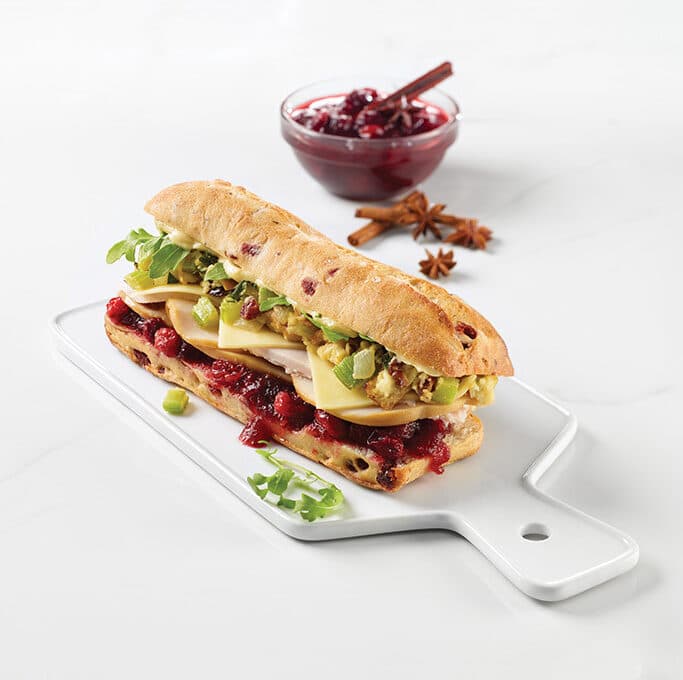 Turkey Stuffing and cranberry Sandwich
Portions

1

Preparation

35 minutes

Cook

55 minutes
Recommended consumption time
Breakfast
Lunch
Brunch
Snacks
Appetizer
Ingredients used
Cranberry baguettine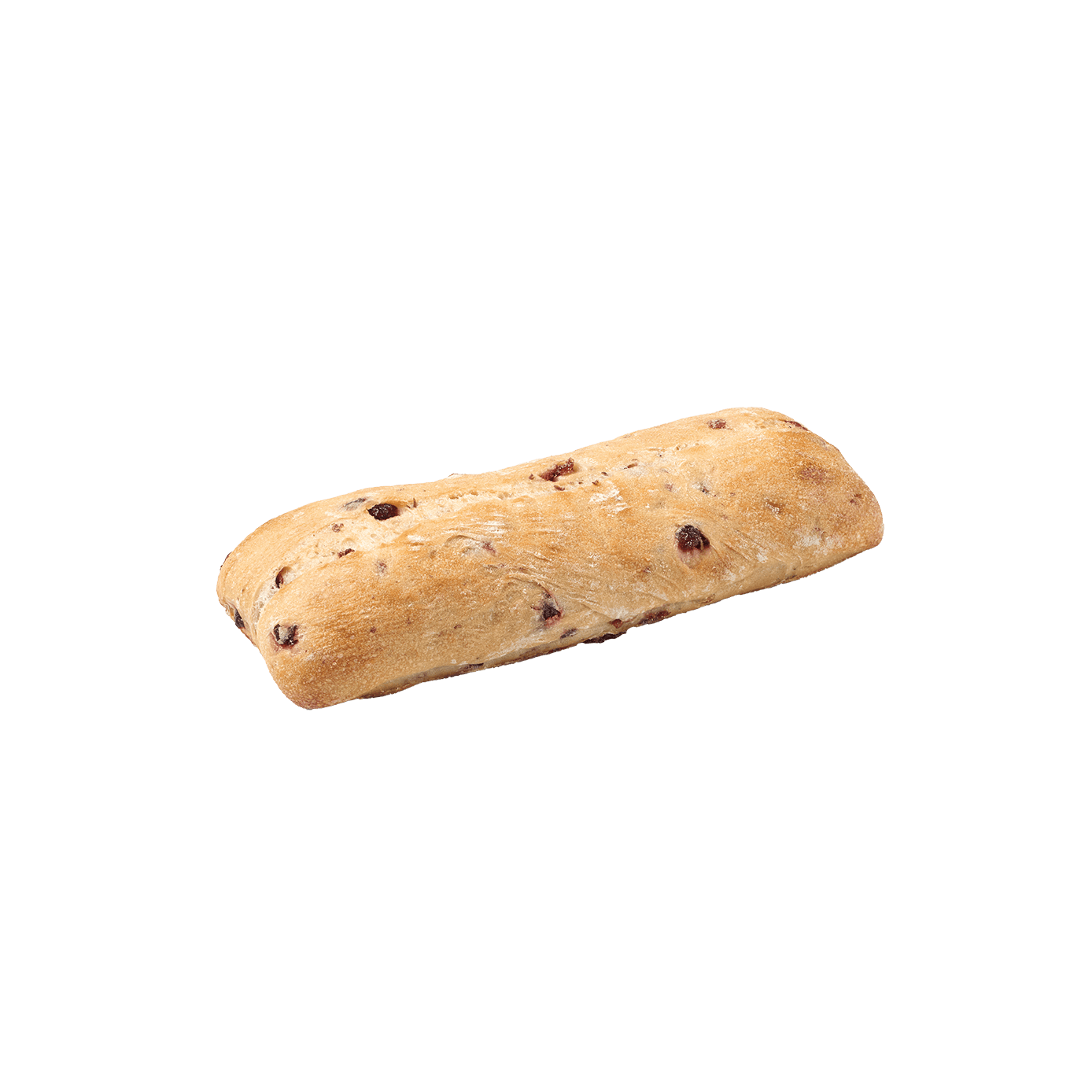 Cranberry baguettine
Quantity: 1
Cranberry compote - see 2nd recipe card
Roasted turkey breast
Havarti cheese
Herb stuffing - see 2nd recipe card
Garlic aioli - recipe below
Rocket greens to garnish
Garlic aioli
½ cup mayonnaise
1 finely grated garlic clove
1 tsp lemon juice
1 pincée de sel et de poivre
1 pinch of salt and ground pepper
Herb stuffing
1 Cranberry Baguettine 60BGCR
¾ cup butter
1 egg
1 cup diced onion
1 cup diced celery
1 ½ cup chicken stock
1 Tbsp each fresh sage and parsley
Cranberry Compote
1 lb fresh cranberries
1 cup water
½ cup white sugar
½ cup brown sugar
3 strips orange peel
1 orange (for the juice)
1 cinnamon stick
3 star anise
Preparation
STEP 1

Start by making the aioli. Mix all ingredients together and refrigerate until ready to use.

STEP 2

Slice, butter, and lightly grilled the bread. Starting with the heel of the bread, spread cranberry compote onto the heel.

STEP 3

Layer roasted turkey breast.

STEP 4

Layer Havarti cheese onto the turkey.

STEP 5

Add a generous amount of cold stuffing.

STEP 6

Top with Rocket greens.

STEP 7

Spread garlic aioli onto the top half of the cranberry baguettine.

Herb Stuffing
STEP 1

Roughly cut up the cranberry baguettine in advance and allow to sit out and stale for a day.

STEP 2

Melt butter in a pan and sautee diced onion and celery until tender. Season with salt and pepper to taste. Finish by stirring in fresh herbs.

STEP 3

In a bowl whisk egg and chicken stock together.

STEP 4

Add sauteed vegetables and herbs to staled bread. Mix until the bread is well coated.

STEP 5

Pour liquid over the bread mixture stir until combined.

STEP 6

Pour mixture into baking dish. Bake at 350 F for approx. 45 minutes.

Cranberry Compote
STEP 1

Combine all the ingredients in a pot and place on medium high heat. Bring to a boil.

STEP 2

Once mixture has come to a boil, reduce the heat and simmer stirring often until the mixture has slightly thickened.

STEP 3

Cool and refrigerate until ready to use.